Posted on August 14, 2010
I am so excited to share these products with you….they are just beautiful! These are both custom designed and they come as a part of 2 different packages. The image box starts at $300 (with proofs) and the book starts at $250 for an 8×8.
Sorry for the picture overload, but I am super excited to share these!
Posted on February 19, 2010
I have a few new products that I wanted to share with all of you!
The first one is the new Dog Tags! They have pictures on both sides and can be color, black & white, or both. These are really cool and look even better in person. The colors are vivid and it is so shiny! They also come with the chain (necklace length or 3 inch for purse/ back pack, etc.) and also a silencer.
They are available for only $20! Add duplicates for only $10 more.
I also have metallic prints available. They are glossy with a metallic look to them, they are really neat! This is an example of one of the free items you can get with the preferred pricing.  It is also mounted so it can stand on its on on this little easel. These also look awesome in person and I have an example on hand for you!
The last two are the 5×7 mini storyboard and the 3×3 accordion album.
The mini storyboard can have several pictures on it with various backgrounds. These make perfect gifts and fit nicely on desk tops.  They are $50 and are completely customizable to what you want!
The accordion album has 10 pictures in it and fits perfectly into your purse! These are perfect for showing off your kiddos to your friends and family.  They are $60 for 2 identical albums. They are also available with custom covers for an additional charge.
Both of these items are also available as free gifts with the preferred pricing.
Posted on September 4, 2009
I am running a SUPER special to celebrate Labor day and my daughter's 4th birthday for a limited time! Here are the details:
**EXTENDED**

SPECIALS END ON THE 15TH
2 Different mini sessions offered at discounted rates:
OPTION 1: Savings of $90
1 hour WEEKDAY mini session at my studio
4 FREE 5X7 prints (can all be different)
Include up to 4 family members in the allotted time
Several different backgrounds to choose from
$50 Session fee
OPTION 2: Savings of $65
1 hour WEEKEND or ON LOCATION mini session
4 FREE 5X7 prints (can all be different)
Include up to 4 family members in the allotted time
Several different backgrounds to choose from or outdoor setting
$75 Session fee
This special is only for a limited time and limited dates are available. This special can not be combined with any other specials and  the session must be held by November 30th. Book your session now before it ends!!
Call 254-449-2825 or email angelab@angelabphotography.com to book your session

HAPPY BIRTHDAY HALEY!!!

Posted on March 18, 2009
Good luck to all who enter! I will add entries as I receive them.
**There is no difference between the choices of 'Yes' and 'My Fav', both will count as a positive vote for the said photo.**
**One vote per IP address**
ENTRY # 1
Sent in by Gina, what a CUTE pic!!
Vote for Gina here:
[poll id="2"]
ENTRY #2
Sent in by Poppy. A picture of her precious daughter, and her blog is HERE.
Vote for Poppy here:
[poll id="3"]
ENTRY #3
Sent in by Jacylann, her daughter Kaydence (LOVE that name by the way!)
Vote here for Jacylann:
[poll id="4"]
ENTRY#4
Sent in by Cynthia of her cute kiddos MaKaylia & Levi waiting on daddy!
Vote for Cynthia here:
[poll id="5"]
ENTRY #5
Sent in by Shelia of her handsome little boy Carson
Vote for Shelia here:
[poll id="6"]
ENTRY # 6
Sent in by Stephanie of her precious boy Dylan
Vote for Stephanie here:
[poll id="7"]
ENRTY # 7
Sent in by Casey of cute little Carsen!
Vote for Casey here:
[poll id="8"]
ENTRY #8
Sent in by Morgan of her cutie patootie Amelia "Millie"
Vote for Morgan here:
[poll id="9"]
ENTRY #9
Sent in by Felisha of her handsome boy Landon
Vote for Felicia here:
[poll id="10"]
ENTRY #10
Sent in by Bianca of her sweet daughter:
Vote for Bianca here:
[poll id="11"]
ENTRY# 11
Sent in by Yoali of her adorable daughter Evangeline.
Vote for Yoali here:
[poll id="12"]
ENTRY#12
Sent in by Jennifer of her curly haired cutie, Jayden.
Vote for Jennifer here:
[poll id="13"]
ENTRY# 13
Sent in by Robin of her son….look at that smile!
Vote for Robin here:
[poll id="14"]
Posted on September 13, 2008
I have some pictures of the purses to share. This is the Bucket Bag ($80) and the Leather Wallet ($75). The Bucket Bag has the green interior with a picture on the front. I love the way they turned out and I am definitely offering them to my clients! I have included a price list with details at the bottom of this post.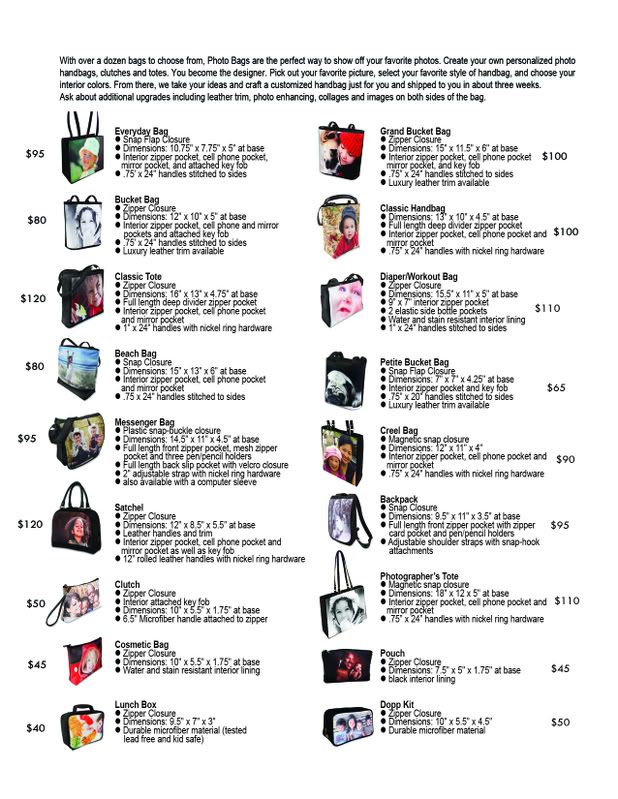 Posted on July 22, 2008
I will be offering these great photo bags for all my clients. There are different styles to choose from and you can get pics on both sides and even choose from a few colors for your lining. I have a few previews of them:

More info to come!